Products overview is interesting.
Information about nutrition facts.
All sandwiches can be made as Tortilla Wraps of Flat Breads. Our Standard sandwich sizes are 15cm or 30cm.
Classic sandwiches
What are the classic Subway® sandwiches? These are especially delicious variants that our sandwiches are famous for. At Subway®, we consider it the cornerstones of our offer and we attach the highest importance to them. No, classic sandwiches are not spectacular. They're not even exotic. They are simple, beautiful, but above all - absolutely excellent.
Spicy Italian
salami mixmore here Classic Tuna
excellent classic taste of tuna and mayomore here Italian B.M.T.
classic sandwich with salami and hammore hereBig Beef Melt
classic sandwich with beef and our delicious cheesemore here
Sandwich with warm filling
Since 2005, all Subway® restaurants have freshly baked sandwiches. Any sandwich can be baked within 20-30 seconds and you can enjoy it warm and crisp.
Meatball Marinara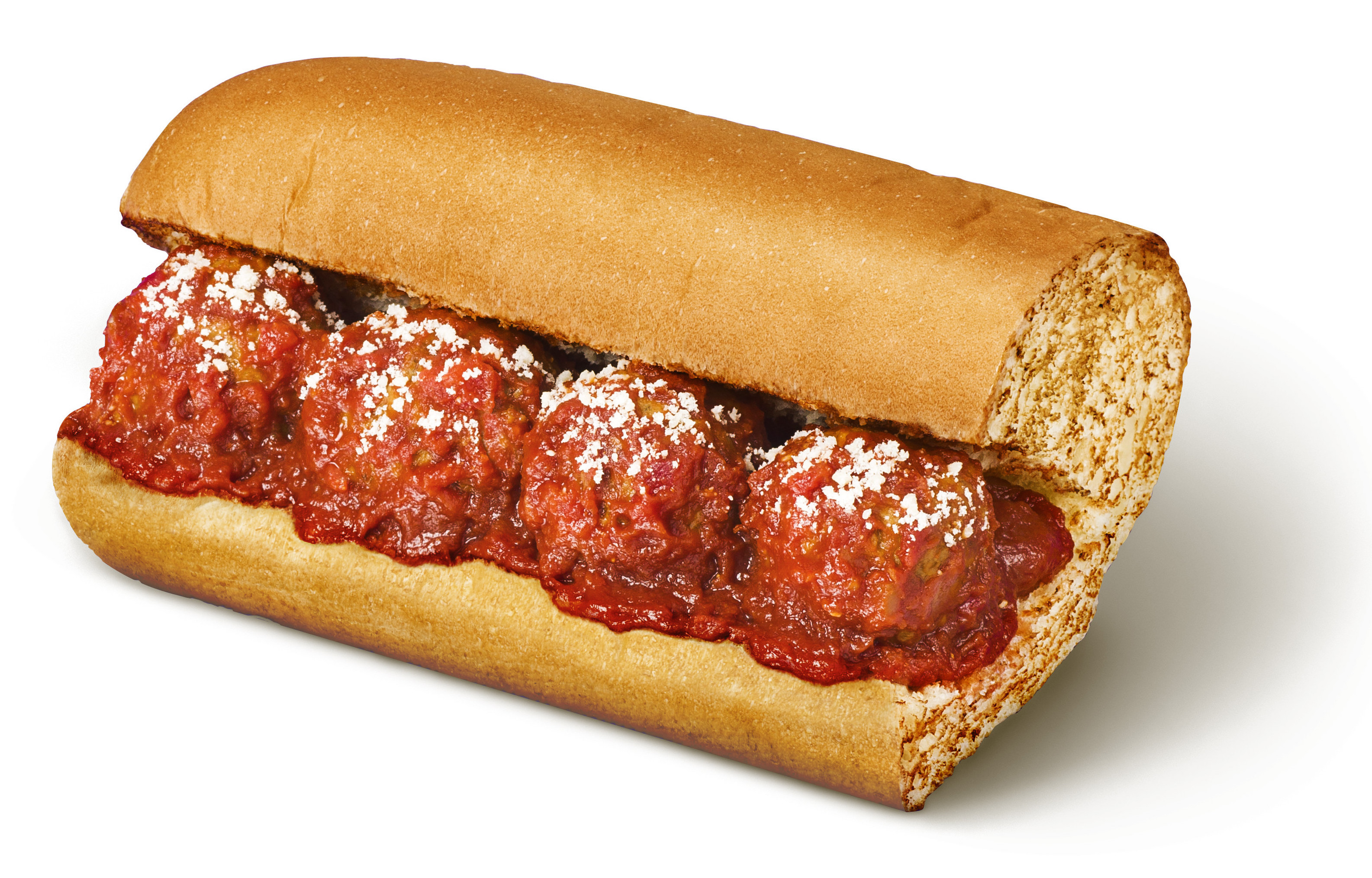 meatballs famous hot sub with tomato saucemore here Steak & Cheese
thinly cut slices of steak with some cheese on topmore here Subway Melt®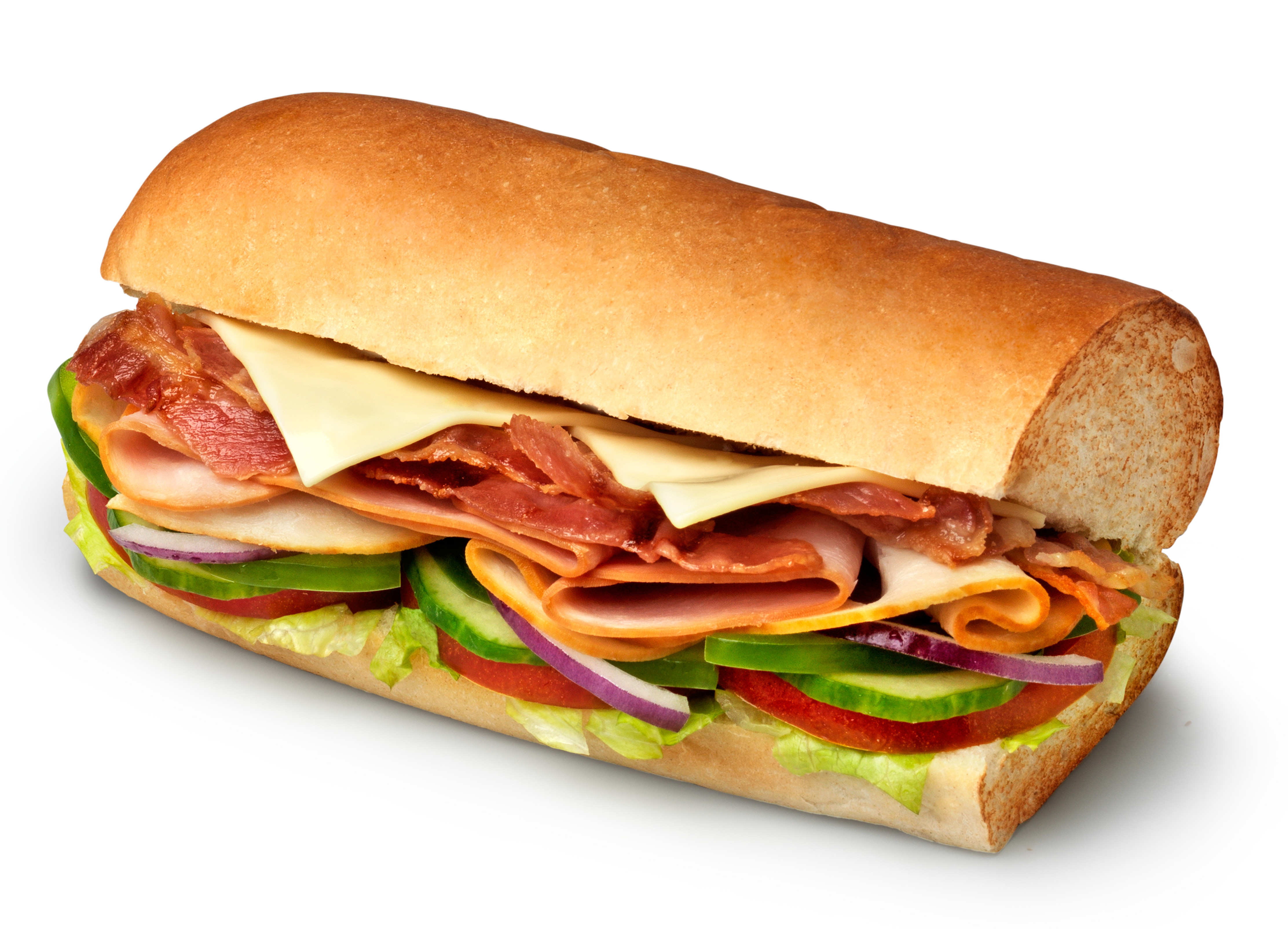 combination of ham, turkey breast and bacon with melted cheese on topmore here Chicken Teriyaki
delicious chicken strips in Teriyaki saucemore here
Sandwiches with 6g fat or less
The Subway® restaurant offers its customers a fresh and even healthier option - sandwiches containing less than 6 grams of fat. They are the perfect choice for customers who choose carefully what they do.
Subway Club®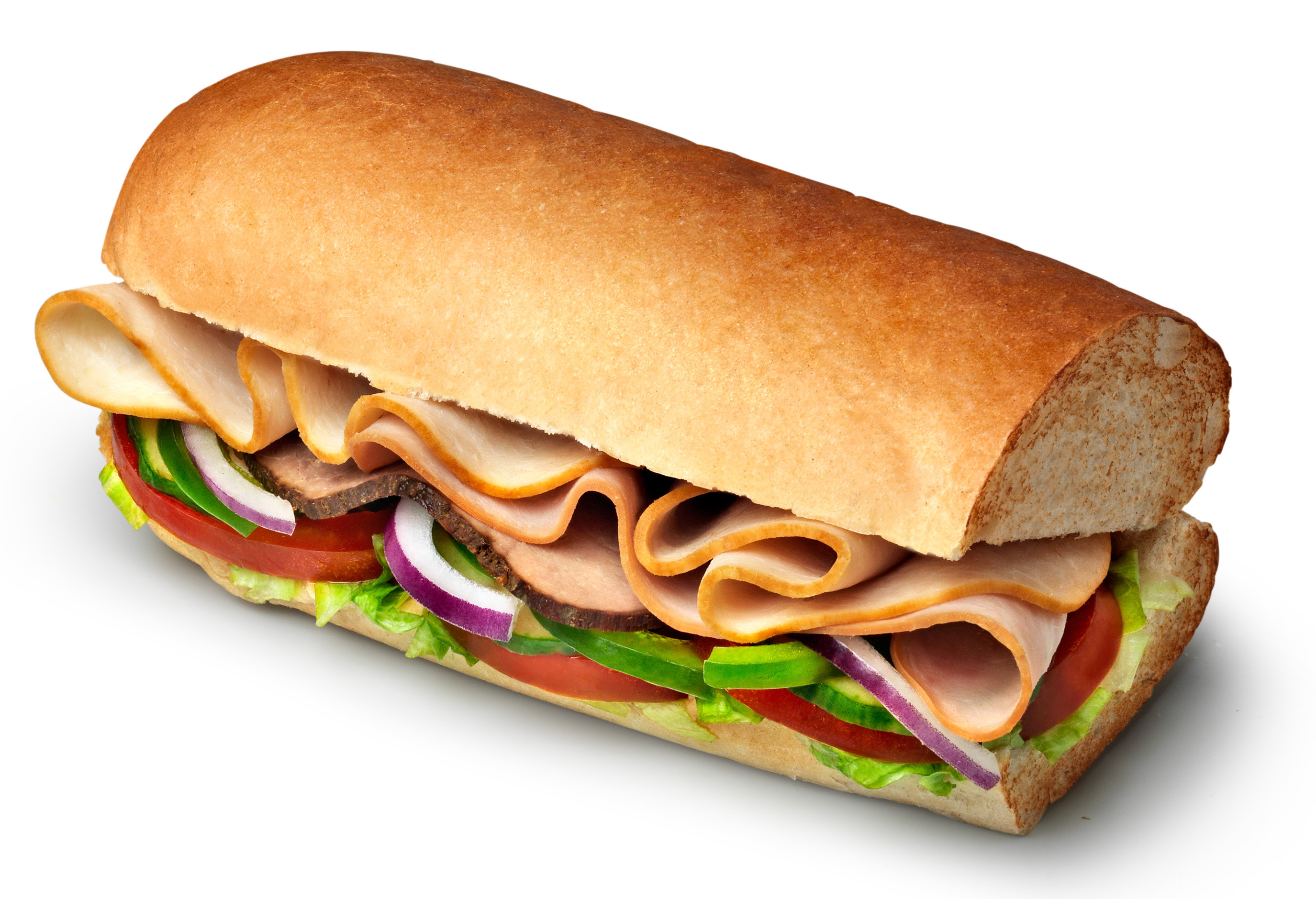 turkey, ham and roastbeefmore here Veggie Delite®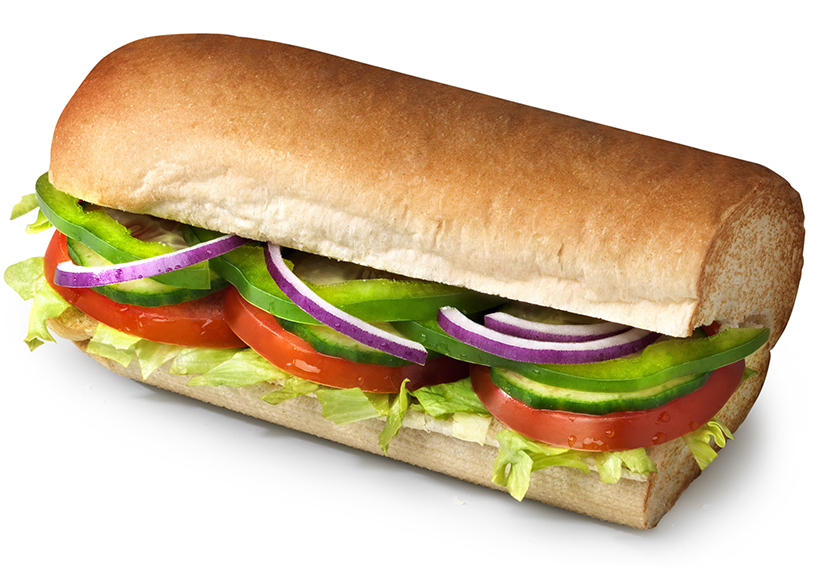 vegetarian patty with fresh vegetables and cheesemore here Ham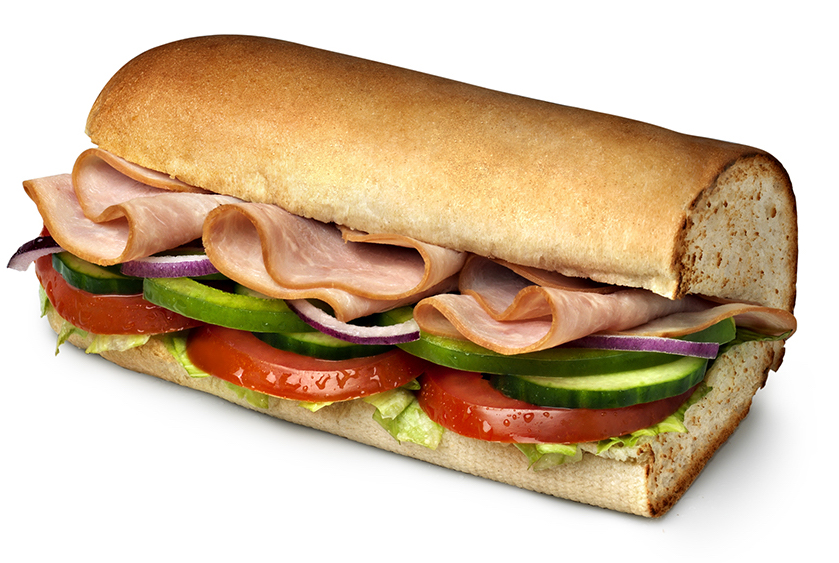 classic ham sandwichmore here Turkey Breast
classic turkey sandwichmore here Grilled Chicken
delicious chicken breastmore here Roast Beef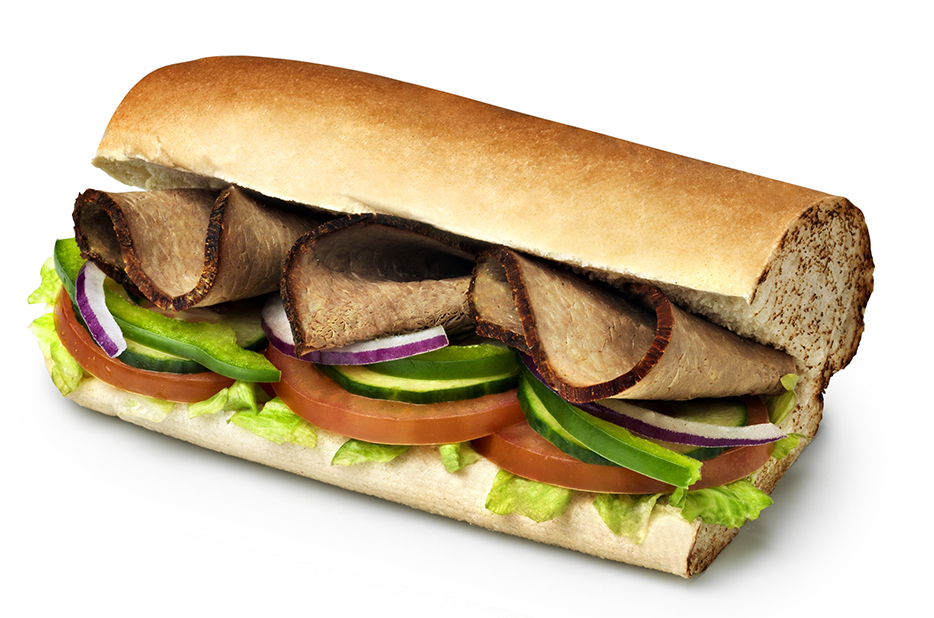 original and delicious roastbeef sandwichmore here Chicken Teriyaki
delicious chicken strips in Teriyaki saucemore here
Locals specialities
Sandwiches in variations of local specialties are an excellent offer for our regular guests. Try something new for a change, like Vegetable Veggie Patty. The range of sandwiches can vary from restaurant to restaurant.
B.L.T.
B.L.T will be appreciated not only by the Englishmen.more here Falafel
Food originating in Egypt and is also suitable for vegetariansmore hereOmelette with Bacon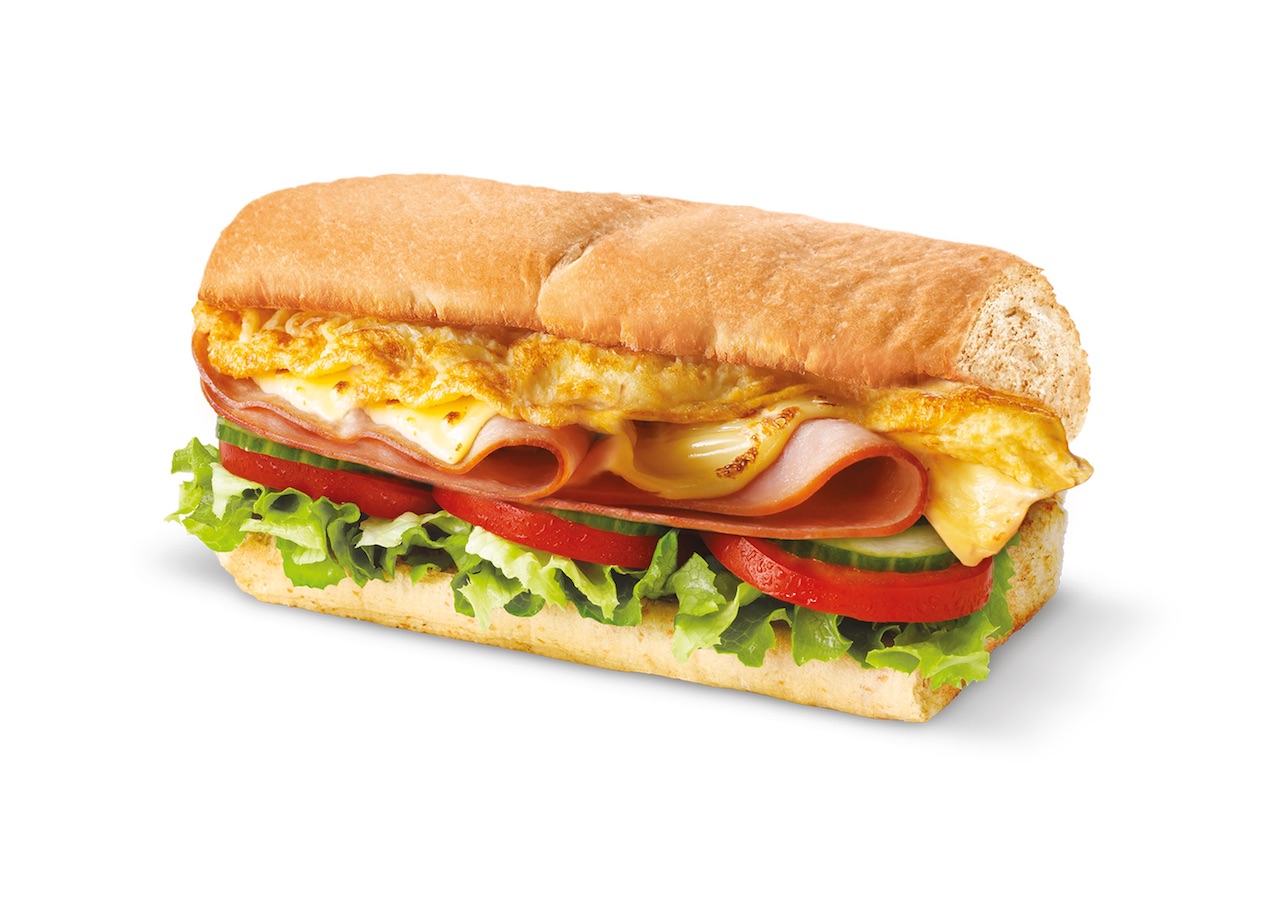 Fluffy omelette with crunchy bacon and baked cheesemore here
Other
Salads
Platters
Cookie
Chips
Drinks
Pepsi
Pepsi Light
Mirinda
7up
Lipton Ice Tea peach
Lipton Ice Tea green tea
100% Toma juice orange
100% Toma juice apple
Toma natura sparkling mineral water
Toma natura still mineral water
Vittel
Mountain Dew
Ginger-Ale
Hot Drinks
Coffee Americano
Cappuccino
Caffè latte
Hot chocolate
Black tea
Fruit tea
Herbal tea
Nutrition facts
In many countries, the Subway® menu highlights a selection of sandwiches that are low in fat and under 350 calories. You can incorporate these sandwiches into your diet and exercise program in your pursuit to maintain a healthier and balanced lifestyle. Throughout the years, the Subway® restaurant chain has earned a well-respected reputation for offering customers a ter alternative to traditional greasy and fatty fast food. The following are some tips to lower the fat, calories, sodium and increase the fiber in your next Subway® meal.
To Reduce Fat and Calories
Many vegetables are naturally low in calories and fat free. Request items such as raw vegetables, banana peppers, jalapeno peppers, or pickles. Limit the amount of cheese, bacon and creamy dressings used. Ask for mustard or vinegar instead of mayonnaise or oil.
To Reduce Sodium
Limit items such as cheese, bacon, salt, mustard, mayonnaise, jalapeno peppers, olives and pickles. Top your sandwich with vegetables such as lettuce, tomato, green peppers and onions. Try the Olive Oil Blend and vinegar on your salad instead of dressing.
To Increase Fiber
Make sure to include lots of vegetables on your sandwich or salad.
Velikost porce (g)
Kilojauly (kJ)
Kalorie
Celkový tuk (g)
Nasycených mastných kyselin (g)
Sodík (g)
Karbohydráty (g)
Vlákniny (g)
Cukr (g)
Bílkoviny (g)
6-inch/15 cm sendviče s 6 g tuku nebo méně (Hodnoty zahrnují pšeničný chléb, hlávkový salát, rajčata, cibuli, papriky a okurky)
Hovězí
219
1256
300
4,0
2,0
0,6
45,5
4,1
6,6
23,5
Kuřecí prsíčko
219
1284
307
4,3
1,6
0,6
46,3
4,1
6,6
24,0
Kuře Teriyaki
276
1639
392
5,1
1,8
1,2
61,9
4,5
19,4
28,2
Šunka
219
1201
287
4,4
1,9
0,8
46,3
4,1
7,1
19,8
Subway® Club™
233
1271
304
4,4
2,0
0,8
45,9
4,1
6,8
24,5
Krůtí
219
1191
285
4,0
1,8
0,8
45,6
4,1
6,6
21,2
Krůtí & Šunka
228
1233
295
4,4
1,9
0,9
46,0
4,1
6,9
22,4
Veggie DeliteTM
162
968
231
2,5
1,3
0,3
44,9
4,1
6,3
9,9
6-inch/15 cm sendviče
Slanina
183
1301
311
8,8
4,5
0,6
45,2
4,1
6,5
15,4
Kuře Pizziola
276,4
1857
444
15,2
6,7
1,1
50,1
4,4
9,5
30,8
Kuře Tikka
230,4
1526
365
10,1
4,8
0,7
46,5
4,1
7,1
26,2
Italian BMT®
237,5
1895
453
20,8
9,6
1,3
46,2
4,1
6,9
25,0
Masové kuličky
316,7
2232
534
21,2
9,3
1,3
63,6
7,0
19,7
28,1
Spicy Italian
232,9
2212
529
29,3
13,3
1,4
45,8
4,1
6,6
25,4
Subway® Melt®
248,8
1566
374
10,7
5,2
1,1
46,4
4,1
7,0
28,0
Steak & Sýr
230,4
1433
342
8,7
4,7
0,7
47,2
4,4
7,3
23,4
Krůtí & Slanina
239,4
1524
364
10,2
5,0
1,1
45,9
4,1
6,7
26,8
Tuňák
244,5
1764
422
17,3
4,4
0,8
46,6
4,1
6,5
22,4
Veggie Patty
258,7
1829
437
12,9
5,4
0,9
54,1
4,1
9,4
24,2
Saláty s 6 g tuku nebo méně (dresinkem, sýrem a krutony nejsou součástí dodávky)
Hovězí
356
506
121
2,5
0,9
0,4
6,2
4,0
4,7
16,4
Šunkový
356
450
108
2,9
0,8
0,5
7,0
4,0
5,2
12,8
Kuřecí prsíčko
371
613
146
3,2
0,6
0,4
7,3
4,0
4,8
20,6
Kuře Teriyaki
413
889
212
3,7
0,7
0,9
22,6
4,5
17,5
21,1
Subway® Club™
371
521
125
2,9
0,9
0,6
6,6
4,0
4,9
17,4
Krůtí
356
440
105
2,5
0,7
0,5
6,3
4,0
4,7
14,2
Krůtí se šunkou
366
482
115
2,9
0,9
0,6
6,7
4,0
5,0
15,4
Veggie DeliteTM
300
217
52
1,0
0,2
0,1
5,5
4,0
4,4
2,8
Cookies & dezerty
Čokoládové kousky
45
912
218
10,3
5,3
0,2
29,0
1,1
15,0
2,3
Čokoládové s barevnými kousky
45
901
215
10,4
5,9
0,1
28,2
0,9
14,4
2,3
Dvojitá čokoláda
45
924
221
11,7
5,9
0,2
26,5
1,2
16,6
2,3
Ovesné s rozinkami
45
793
190
8,8
4,1
0,2
25,3
1,9
15,4
2,3
Bílá čokoláda, Makadámské oříšky
45
932
222
11,7
5,8
0,2
27,3
0,7
13,8
2,2
Chléb
15 cm italský (bílý) chléb
71
836
200
2,1
1,2
0,3
37,2
1,8
4,3
7,8
15 cm pšeničný chléb
78
905
216
2,4
1,2
0,3
42,6
3,0
4,5
9,1
15 cm parmazán a oregáno chléb
74,575
902
216
3,0
1,5
0,5
38,5
1,9
4,3
8,3
15 cm ovesný chléb
88,63125
1075
257
3,0
1,3
0,3
50,5
3,3
10,0
10,0
Malý bílý chléb
47,33286
557
133
1,4
0,8
0,2
24,8
1,2
2,9
5,2
Malý pšeničný chléb
51,9948
603
144
1,6
0,8
0,2
28,4
2,0
3,0
6,1
Wrap
101
1388
328
6,6
2,9
0,5
59,5
2,0
3,4
7,9
Sendvičové omáčky (množství na 6-in/15 cm Sub)
Slanina ( 2 plátky )
9
169
40
2,9
1,1
0,1
0,2
0,0
0,2
3,4
Sýr, Zpracovaný Cheddar
11
165
39
3,3
2,1
0,1
0,2
0,0
0,0
2,2
Pikantní Soutwest omáčka
21
377
90
9,1
0,7
0,2
1,5
0,2
0,9
0,3
Hořčicovomedová
21
105
25
0,2
0,0
0,1
5,3
0,2
3,6
0,2
Lehká majonéza
15
224
54
5,6
0,4
0,1
0,8
0,0
0,1
0,1
Sladká cibulová omáčka
21
191
46
0,2
0,0
0,1
11,1
0,2
9,6
0,1